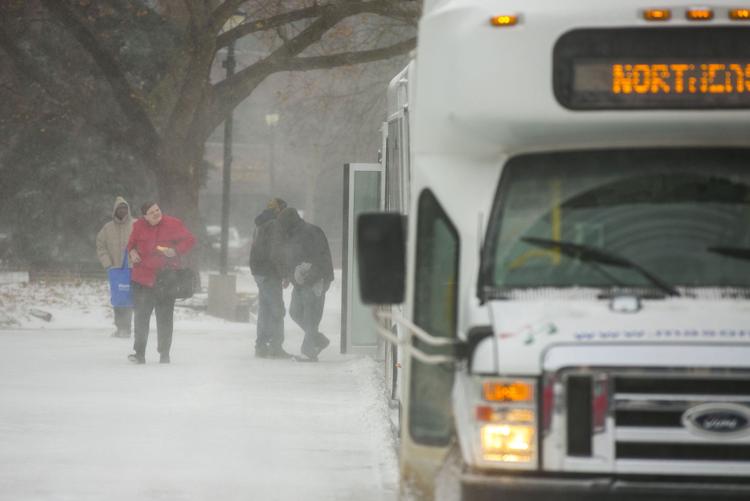 MASON CITY | For $2, the city will help you get where you need to go on weeknights.
That's the purpose of the "Midnight Special," an after-hours bus service which began three years ago and is used by an average of 350 passengers a month.
"We created it to help people, and it's working," said Dylan Schulte, the city's transit manager.
It provides rides from 6 p.m. to midnight with the goal of giving transportation to second and third-shift workers, students with night classes or other job training opportunities, people needing medical care or just wanting to go shopping.
"Our figures show that 85 percent of our passengers use the service for employment, 10 percent use it for medical needs and the remaining 5 percent for miscellaneous," said Schulte. "So it's doing what we hoped it would do."
It's also a boon to the local economy," said Chad Schreck, president of the North Iowa Corridor Economic Development Corp.
"One of the significant barriers employers tell us they experience when hiring potential workers is transportation to and from work," said Schreck.
"It could be due to a lack of vehicle or driver's license or other factors. Bus service is essential in filling that need and we are really fortunate to add nighttime service as a direct response to that need.
"It's a great service because night shifts are always among the most difficult to fill," he said.
The cost is $2 per ride and is done by appointment.
When the program started, it operated on an 80/20 match with the state picking up the majority of the cost. Now the match is 50/50 and Schulte knows someday it will have to be self-sustaining.
"We have sources for the money to operate it. I really don't like to talk about that aspect of it. The important thing is that we're serving a need," he said.
The transit system is in the midst of many changes. Five new buses have been ordered to replace some of the older buses. Schulte expects delivery of all of them this year.
Also, the transit system has just started a GPS system in which riders can track the location of buses on the city's website, www.masoncity.net to see the exact location of the bus they are intending to take.
Schulte said this service will prevent people from having to stand outside for long periods of time waiting for their bus.