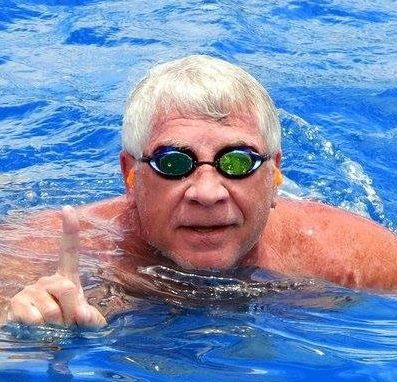 Kevin Polansky: Obituary & Tribute
January 6, 2018
"Death thou comest when I had thee least in mind"
Everyman
Kevin Polansky died suddenly on the morning of January 6, 2018 while swimming with his master's club in the pool where he had coached and swam since the 1970s. He died doing what he loved. Kevin was defined by water, by aquatics and all things wet. He was a water hound. He swam, coached, announced swim meets, and enjoyed fluid libations. He was a man of expansive tastes with the heart of Phar Lap. Kevin always rode his bike fast, swam far, lived large, & loved with all his heart. He was generous, boisterous, humble, brash, and kindhearted. Whatever he did, he did with heart and soul. He had many nicknames: Pole-man, King Fish, Pol-cat, just Kev, or Squid which he used as an affectionate moniker for his young swimmers.
Kevin Polansky was born in 1950 in Mason City, Iowa. His parents were Vic and Nell Polansky. Kevin was born with a medical diagnosis of "clubfoot" but he never let it slow him down in his quest for a life rich in experience. He started swimming with the local YMCA and then graduated to the high school program under the guidance of Willis Colville. Coach Colville became a mentor for Kevin, as he was for many of us as well. Coach Colville taught us integrity, discipline, and the value of hard work. He was the most influential "teacher" that many of us had in high school, college, or graduate school. Kevin often attributed the influence of Willis Colville to his decision to become a coach and guide the lives of young swimmers and athletes. And to keeping him walking the "straight and narrow". Kevin was a good swimmer in high school. He finished in the top 6 at the Iowa state high school swim meet. He held school records in the 200-yard individual medley and the 100-yard butterfly. He graduated from Mason City high school in 1968. He went on to swim at a division III college in Wisconsin for a year and then transferred to Mankato State University where he was captain of his team and most valuable swimmer in 1972-73. He was inducted into the MSU Swimming Hall of Fame a few years ago and promptly dedicated his award to coach Colville.
I drove with Kevin in his robins-egg blue VW super Beetle to Boulder, Colorado in the summer of 1973. Our bikes were draped precariously on the back of the bug and barely cleared the pavement but we had a spectacular cross-country trip. Kevin was immediately enamored with the Rocky Mountains. After finishing his master's degree at the University of Colorado he moved to Loveland, married his high school sweetheart, Marcia Mulford, had two sons, and never left. While there he taught physical education and coached swimming for over 20 years. He had multiple state champ teams and was Colorado high school swim coach of the year four times. He later started Polansky Financial Group in his passion to help people secure financial health and personal wealth. His Facebook postings were captivating and are still viewed with tenderness.
He helped establish the Loveland Masters swim club in 1978. He soon became a legend in the US Masters Swimming (USMS) community with multiple national and world masters swim titles and records. He competed in open water swims all over the world including the Waikiki Rough Water swim and the Maui Channel Swim. I remember watching him win the 200 free-style at the USMS short course national meet in 1994 in Fort Lauderdale at the Swimming Hall of Fame pool. It was a top dog heat filled with ringer's and former NCAA swimmers now in the 40-44-year-old age group. I remember at the time thinking how amazing it was that this guy, my old high school team mate, from the bucolic northern prairies of Iowa had beaten this heat of great swimmer's. That he had the hutzpah to go into the den of the swimming Gods and emerge victorious. And he did it often in those decades! He beat a former Hawaii Ironman Champ in a pool event once, and at the end of the race looked over across the lane line to flash his broad smile, and with this finger cocked like a pistol said, "Gotcha Cowboy". Kevin had the confidence to take chances, to risk failure, and often succeeded where others were afraid to test their fortune.
In 2003 Polansky delivered the eulogy for our mentor, coach Willis Colville. Polansky's words of praise for his own beloved coach now echo as a eulogy for himself. In asking what tribute one creates for an individual who has inspired so many, Kevin looked out at the congregation of swimmers and friends who had traveled back, from all over the nation, gathered to honor this mentor and guide, and recited the requiem to Sir Christopher Wren, architect of St. Paul's Cathedral. "If you seek a memorial… look about you". And so, the student become the teacher, the swimmer became the coach, and proved that the influence of one extraordinary person can indeed change lives, move the world, and perhaps lead us to accomplishments once unimagined. He dropped a pebble in the pond and the ripple was felt on a distant shore; with time the genesis of the deed will no longer be remembered. But it is now our time, our privilege, to remember Kevin Polansky, to rest the laurel on his brow, as a devoted friend, inspirational coach, and mentor who gave us things to dream about and the challenge to be a better person in this all too fragile world.
Kevin was preceded in death by his parents, a sister JoAnn, a brother Jerry, and his son Mark who passed away three months ago in October 2017. He is survived by his ex-wife Marcia Mulford, his son Matthew, brother Paul, his twin sister Kathy, and twin siblings, brother Rick and sister Vicky, and his partner Renée of Loveland Colorado.
Kevin swam almost every day. He sometimes seemed more amphibian than man. He died as he lived, boldly, courageously, and embraced by the element he loved most, God's sacred elixir of water. There are bookends to all our lives. Sometimes we are reminded of that poignantly when one of our heroes dies before his or her time. Marcus Aurelius wrote that "a man's life is dyed the color of his imagination". Kev's life was the color of water. Travel safe, old friend.
Ralph S. Bovard and MCHS swim friends
Memorial services will be held in Loveland, Colorado at 10 am on Saturday morning, January 20th, 2018.