An afternoon of horror: Remembering humanity 50 years after F5 tornado decimated Charles City (with photos)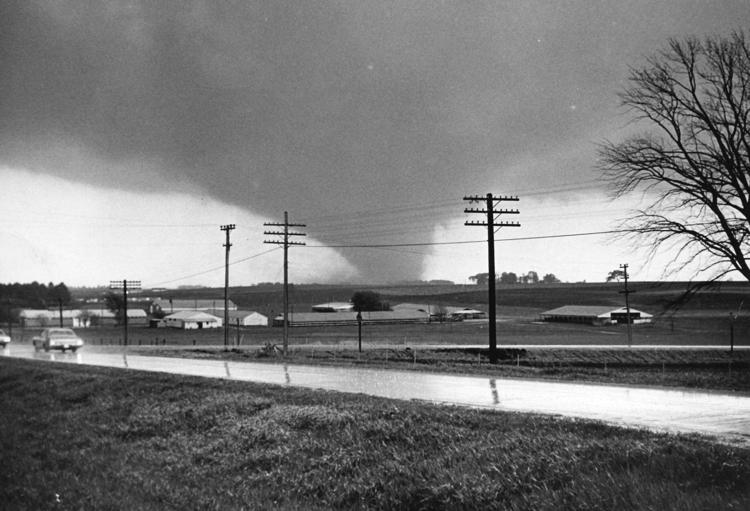 CHARLES CITY | Even 50 years after a tornado decimated Charles City, images of the storm are still reminders of the destructive power of Mother Nature.
Dozens of damaged cars in a field. Cranes picking up debris too heavy to move by hand. People who lost everything. Citizens sifting through debris containing their belongings, their neighbors' belongings.  A terrifying picture of the F5 tornado itself.
The Globe Gazette's headline on May 16, 1968, called it "an afternoon of horror."
Two events Tuesday will mark the 50th anniversary of the carnage.
• At noon, a ceremony will be held by the flagpole in Central Park.
• From 4 to 8 p.m., the Floyd County Historical Museum will unveil an exhibit – "50th Anniversary of the May 15, 1968, F5 Tornado" – dedicated to the storm. It will include local history, weather prevention and rebuilding efforts.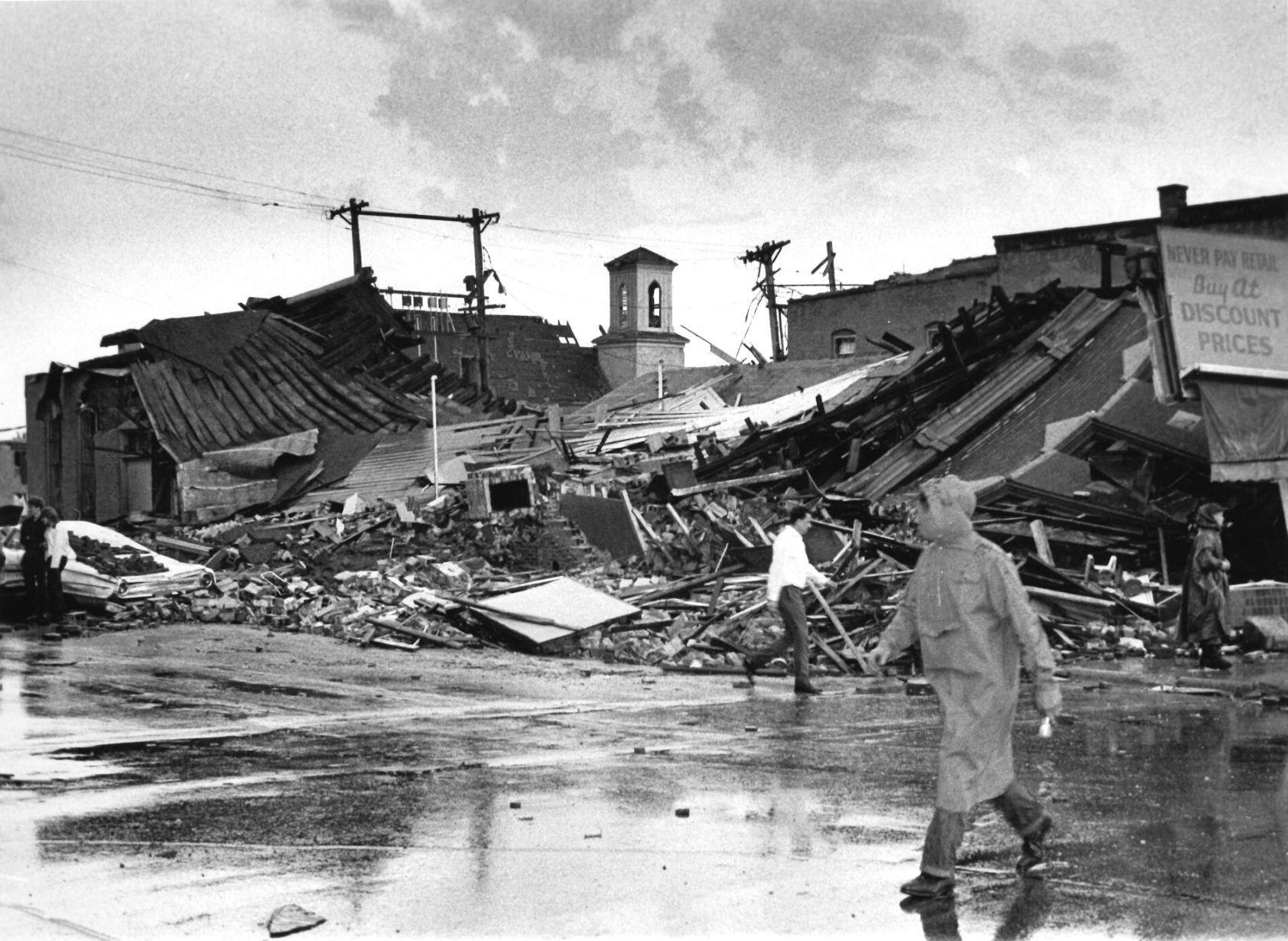 The tornado destroyed neighborhoods and portions of downtown, injuring 450 people and killing 13. The twister caused an estimated $30 million in damage, according to records.
Tornadoes ranked at F5 pack winds greater than 261 mph and can throw vehicles more than 110 yards, completely strip bark off trees and push houses off their foundations. 
According to a graphic published in the Globe Gazette the day after the storm, the tornado "entered the city from the south near the Floyd County Memorial Hospital and caused considerable damage in the residential and light industrial area nearby."
Iowa Gov. Harold Hughes was photographed looking at the rubble while visiting Charles City.
The storm was well-documented. Many pictures and newspapers survived from the time, giving researchers a clear picture of the destruction and clean-up efforts. The days that followed highlighted the recovery and rebuilding efforts.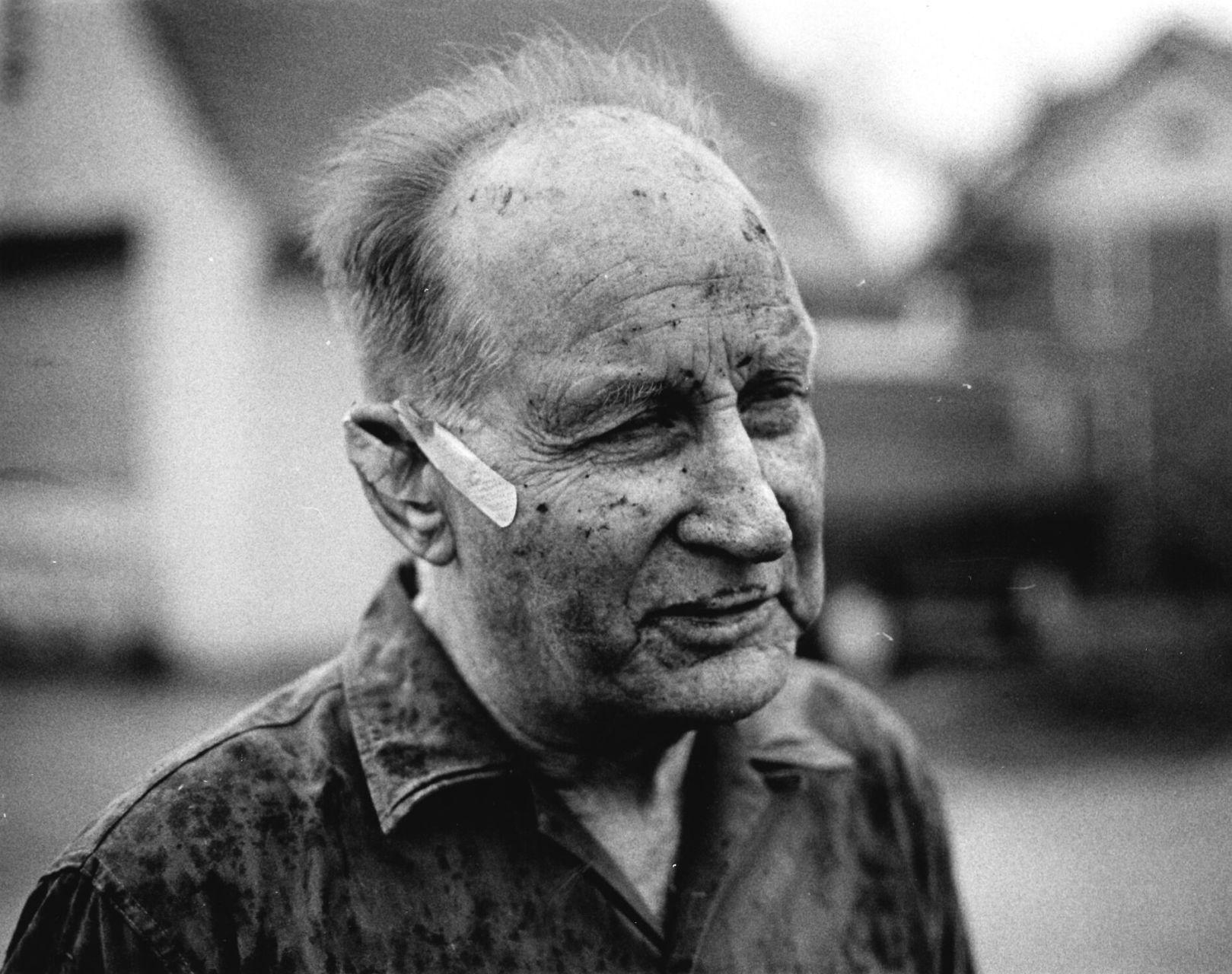 Globe Gazette, May 16, 1968: "Belmond sends help"
BELMOND - It didn't take this Wright County community long to react to that Charles City tornado Wednesday night.
The fellow North Iowa town survived its own destructive twister just two years prior. 
Within two hours after the first word of the disaster reached Belmond an emergency party of a dozen was on the way to Charles City to help.
These men know what they are doing. They've gone through this before. They were in Belmond when a tornado ripped through the town killing 6, injuring hundreds and causing millions of dollars in damage Oct. 14, 1966.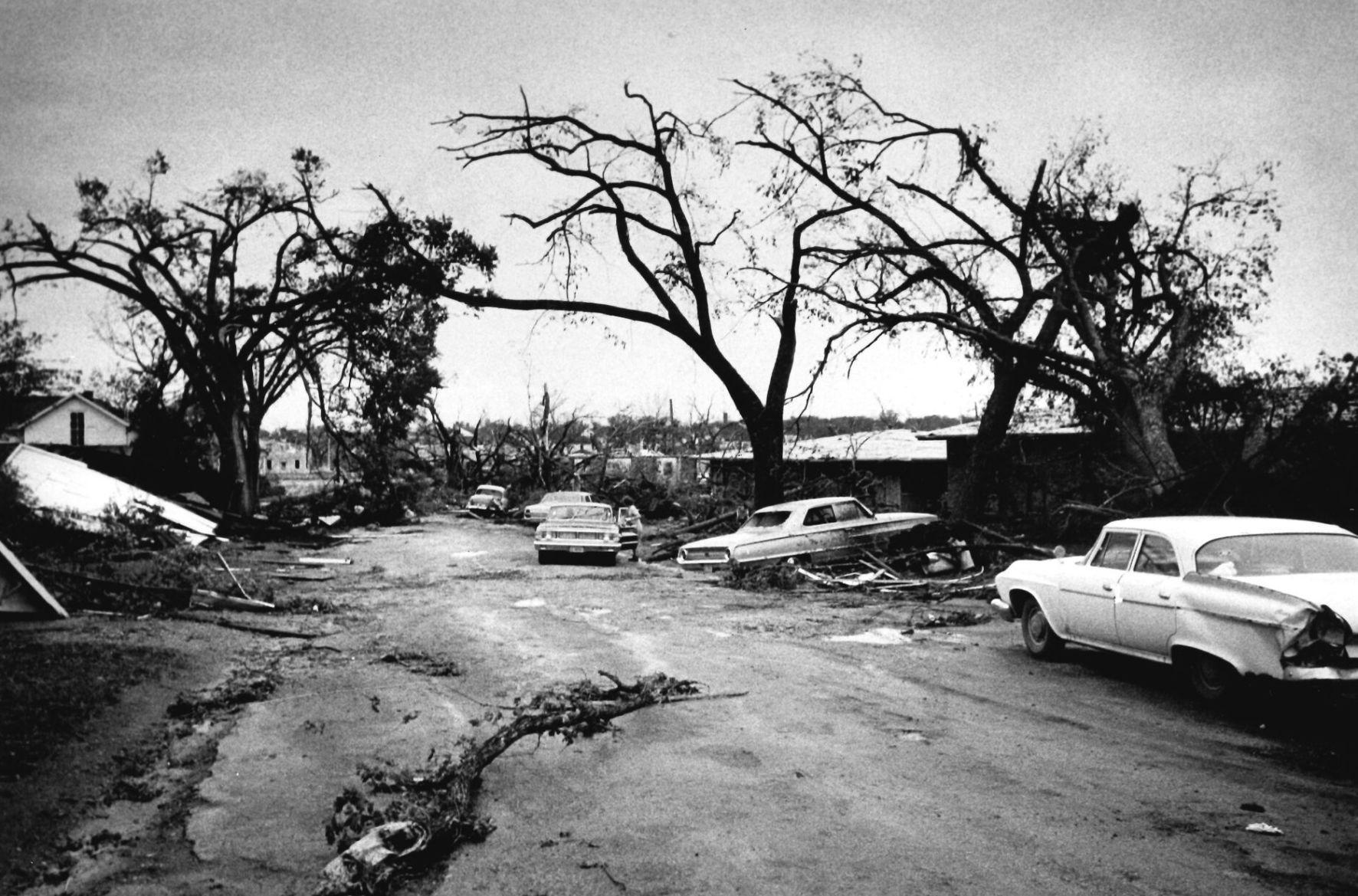 The strong storm systems produced not one but two high intensity tornadoes in Iowa that day, the other in Fayette County.
Shortly before 5 p.m. on May 15, 1968, the deadly storm tore through Floyd County.
The Belmond relief party included Police Chief Faye Withers, Fire Chief Bug Packard, four electricians, about half of the town's regular firemen and a surgeon, Dr. A. F. Benetti.
"They will stay as long as they're needed," Belmond Mayor Floyd Brosher. "As soon as things settle a little, we'll be sending a lot of private volunteers."
Though the pictures and stories detail destruction, they also detail the great efforts to help those in need. People from all over North Iowa rushed in to help.
Dozens brought donations to the Globe Gazette for the Charles City relief fund. Just days after the storm, the relief fund raised about $3,500 with people giving what they could afford.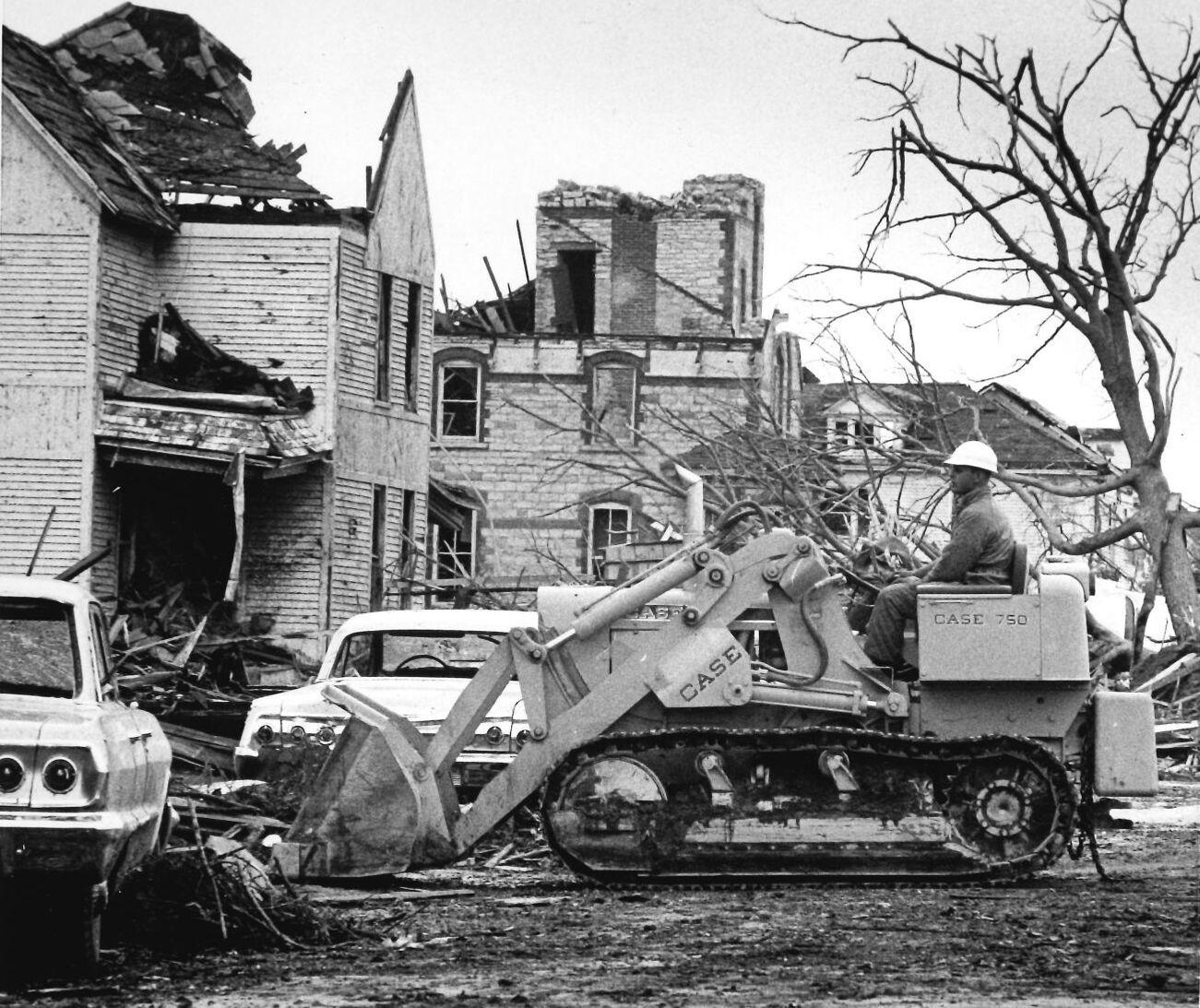 "The Charles City Relief Fund Saturday reached $3,449 as donations by mail began to pour into the Globe Gazette business office," the article said. "Others brought their donations in, realizing that it is the early help which does double duty. It boosts morale as well as helping out with physical needs."
Hundreds of Mason City residents also drove down to help after the storm. The National Guard reported to the area as well along with Junior Chamber of Commerce members, students from North Iowa Area Community College, Mason City firemen, Mason City police, Mason City arborists, Mason City Street Department and drivers from Mason City Municipal Airport.
Dr. Robert Misner, the veterinarian who was mayor of Belmond when the tornado hit there 19 months ago, said it is important for the people of the ravaged cities of Charles City and Oelwein "to keep faith."
"People will be vomiting and walking around with glassy eyes for two days," Misner said. "Those two days are the toughest any town can have."
"But no matter how hopeless it looks, no matter the human hurt, they can whip it. Right now, their first job is to keep faith with each other and in God; then start digging people out. Help's on the way."