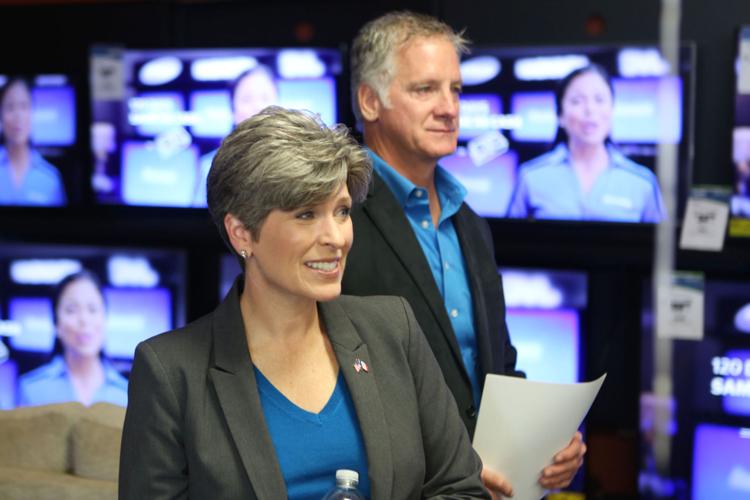 MASON CITY | About a dozen Aaron's employees gave Sen. Joni Ernst a tour of their Mason City showroom Monday afternoon.
It was a different setting than a typical town hall, as staffers of the rent-to-own business explained how they work with customers to help them afford everything from furniture to electronics to appliances.
Ultimately, Ernst chose the spot in Cerro Gordo County for her 99 county tour because it highlights a business that helps those who are economically challenged.
"This was one business that was identified as actually being really flexible and working with customers' needs," Ernst told reporters after her tour of the showroom. "And so it was, let's go out and see how they actually do this."
Ernst fielded questions about gun control, mental health, NFL players kneeling during the national anthem and other issues. When it came to challenges for  Cerro Gordo County residents, however, her focus shifted to tax reform.
Ernst said reforming the tax code is vital to people living "paycheck to paycheck," and hopes changes to it can help lower and middle-class citizens' financial burdens.
A specific problem, she said, is how residents lose considerable government assistance when they move up the tax bracket ladder.
"Instead of bumping up against a fiscal cliff and losing all governmental supports—there are a lot of families that rely on those—is to ease them up out of poverty rather than trapping them in poverty," Ernst said. "We've got to do better for them."
Another problem statewide is people losing health care coverage as Trump starts to rollback certain aspects of Obamacare. Ernst said she has heard multiple stories of Iowans who will already be unable to afford health insurance once their current plans expire.
She added it's imperative that politicians in Washington, D.C. figure out the health care debate before the situation becomes more dire.
"Insurance is only one issue though," she said of health care. "We have to figure out the actual costs of health care ... insurance won't make a difference if you can't afford the actual health care."
Brent Gregurek, chief operating officer of Arona Corporation—which owns Aaron's—said company employees had previously met Sen. Ernst at fundraisers and other events, adding it was a pleasure to show her how the Mason City store operated.
He agreed with Ernst that tax reform is a major issue for lower and middle-class individuals, and added she seemed hopeful in their discussion.
"We would certainly like to see tax reform in the whole United States, not just here," Gregurek said. "The senator felt ... on a federal level that by the end of the year, that we may see tax reform."
Mark Connelly, executive vice president for Bernau Capital Partners—which oversees Aaron's—said he appreciated Ernst's humility and willingness to learn about what Aaron's does for its customers.
He also agreed with Ernst and tax reform, and hopes President Trump can lead some change to the code that impacts lower and middle-class Americans.
"If it's better for us, then what we do is we open more stores, we reinvest that money, we hire more people," Connelly said of tax reform's impact on Aaron's.
Another statewide issue Sen. Ernst has focused on recently is the Renewable Fuel Standard (RFS), which demands a certain amount of biofuels to be blended into the United States' fuel supply.
Ernst, along with Sen. Chuck Grassley, wrote an op-ed earlier this month highlighting the importance of RFS, and calling out the EPA for proposing a reduction in biodiesel levels nationwide.
She told reporters that supporting RFS encourages growth in the renewable energy market, and hopes progress can be made when she meets with EPA chief Scott Pruitt within the next couple weeks.
"We do want cleaner energy, I think that's really important," Ernst said. "But we also want to find a sustainable way of moving our fuels forward. We have the techonology and ability to do that."