Living in Mason City a 'blessing': Filipino nurse honored for outstanding care at Mercy hospital (with photos, video)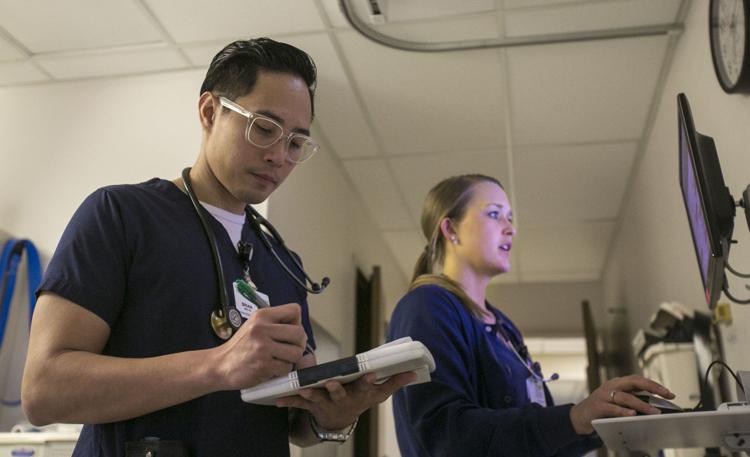 MASON CITY | As a graduate in the top 1 percent of students in the Philippines, Brian Trinidad was expected to choose a career in engineering or science.
At the time, Trinidad didn't anticipate a much different line of work would bring him more than 8,000 miles to Mason City and Mercy Medical Center—North Iowa.
Trinidad, who is from the Cagayan Valley in the northern Philippines, studied engineering for three years before an uncle suggested he could have a more financially rewarding job working as a nurse in the U.S.
Trinidad, 34, admitted he was hesitant at first, but found health care was a better fit for him.
"I think it suited me more, and as I went through the nursing course, I found l loved talking to people and loved taking care of them," he said. "I love the profession."
A registered nurse, Trinidad has been working in health care since 2006, primarily in the Philippines.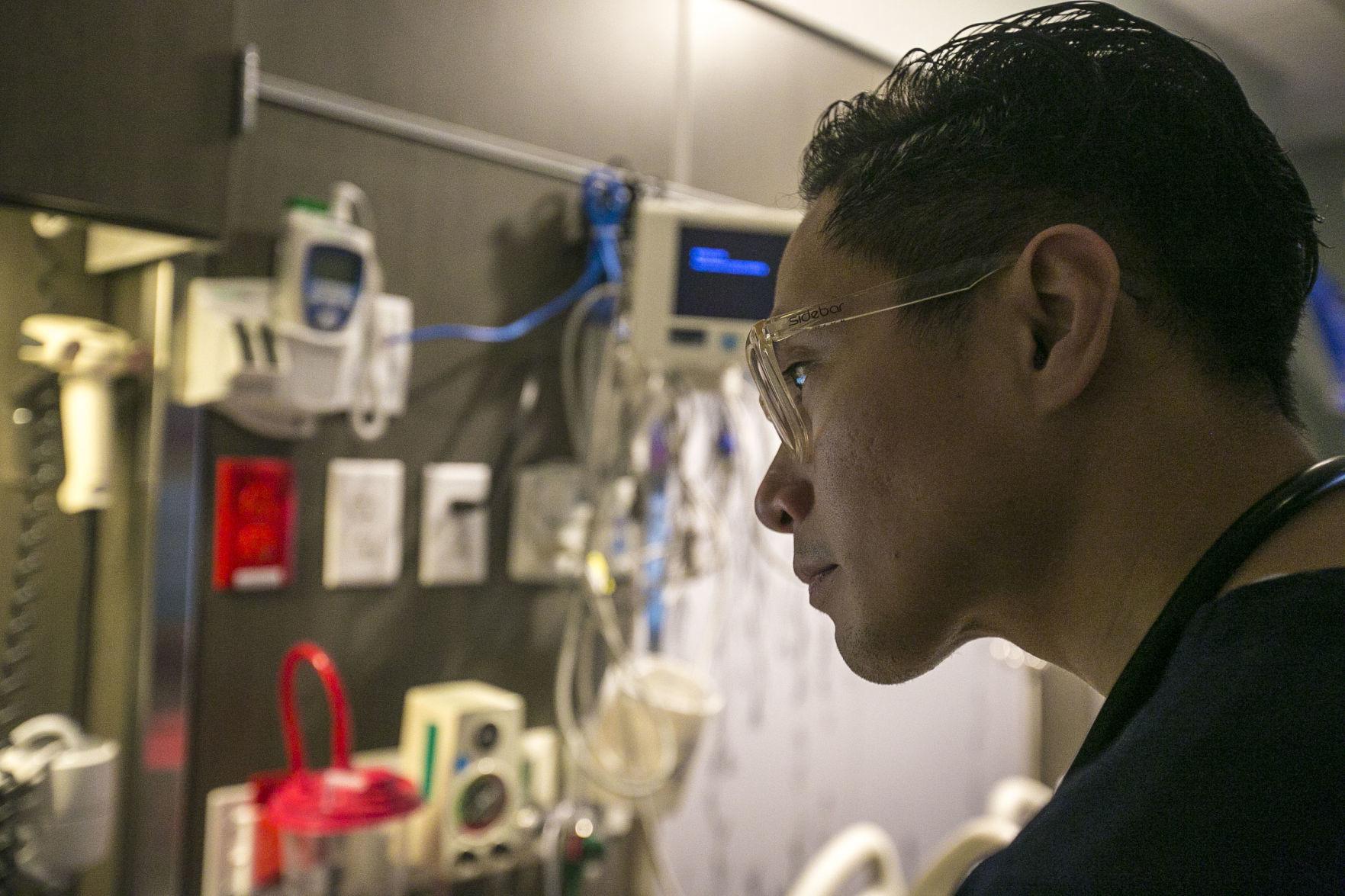 About seven months ago, an agency placed him with Mercy in Mason City, a place Trinidad said he, his wife, Rizalina and 5-year-old son, Lucio, love.
"For our profession as a nurse in the Philippines, being in the United States would be our holy grail, because of the benefits, the system and the financial freedom," he said. "It could not compare to any place in this world.
"I have been waiting for nine years to get here, and it is a blessing," Trinidad said.
As someone who is used to two types of weather -- warm and warmer -- Trinidad said the target state to live in is California, because of the weather and Filipino community there.
"But getting here, we are actually considering staying here, although the weather says differently," he said, laughing as he talked about experiencing his first winter in North Iowa.
Trinidad said he has felt the Midwestern warmth in Mason City, a place he says people have greeted and welcomed him.
"We are not used to that in the Philippines, so it has been quite a smooth transition because of the people in Mason City," he said.
At Mercy, Trinidad works 12-hour night shifts on the cardiac floor. He said other nurses have helped his family adjust to North Iowa, including one who offered her apartment to his family.
"I was really impressed," he said of the hospital, his co-workers, supervisors and atmosphere of teamwork. "I was expecting a lot of the hospitals here in the U.S., and seeing Mercy, and what they apply, I thought it was an ideal system."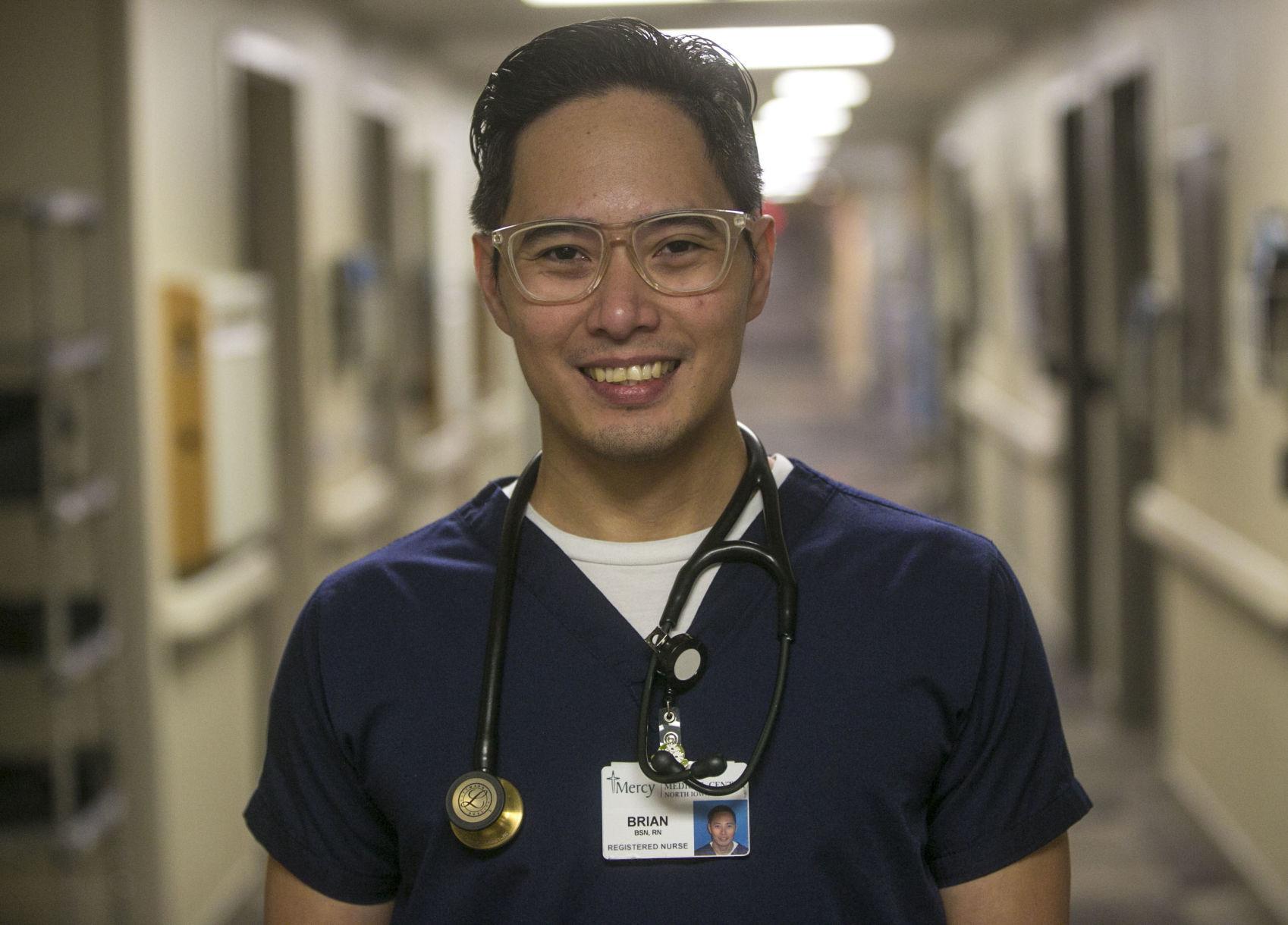 On March 26, Trinidad was honored with the hospital's DAISY Award, given monthly to recognize the "superhuman efforts nurses perform every day." The award, started in Seattle by the family of a 33-year-old who died after a six-week illness, has spread worldwide to recognize caring, compassionate nurses.
Nancy Mielke, a nursing director at Mercy, read a letter from a patient praising Trinidad's care during the award ceremony.
The patient, who said they were "apprehensive" and "scared" about being in the hospital, said Trinidad was a "bright spot" during their stay at Mercy.
"He was funny, charming and professional," the letter read. "Brian always explained what he was doing regarding my care as well as explaining every medication he was giving me."
One of the memories of the patient's stay involved Funyuns. The patient asked Trinidad if they could have one – and, being from the Philippines, he replied he wasn't sure because he had never tried the onion-flavored snack.  
"I shared one with him and he said, 'Funyuns are delicious!' He did have to tell me he didn't they were probably a healthy thing for my heart, though," the letter read.
The patient said it is rare a person can "come between me and my food and make me feel good about it."
"I enjoyed Brian so much and wanted to let Mercy know they have a gem in him," the letter said.
Trinidad said the award came a surprise and said it made him feel "very filled with joy."
"It gives me a sense that I am doing something good at least," he said. "I'm just really appreciative of the recognition given to me, but I'm really thankful to be here in the first place.
"We love Mason City, and I hope we get to stay here and live here."